Welke bands maakten dit jaar de beste albums? Op deze vraag geeft Zware Metalen ieder jaar een uitgebreid antwoord middels de ZM Jaarlijst! Voor de zestiende keer vraagt Zware Metalen de hulp van zijn lezers om de beste platen van het afgelopen jaar op een rijtje te zetten. Welke albums zijn jou het sterkste bijgebleven? Stuur ons je jaarlijstje (minimaal 10 albums, maximaal 20 albums)! De inzendingen zullen we op één grote hoop gooien om de beste 50 albums van 2019 te bepalen!
(Er zal in dit topic ook een jaarlijst gepubliceerd worden louter op basis van in dit topic achtergelaten inzendingen.)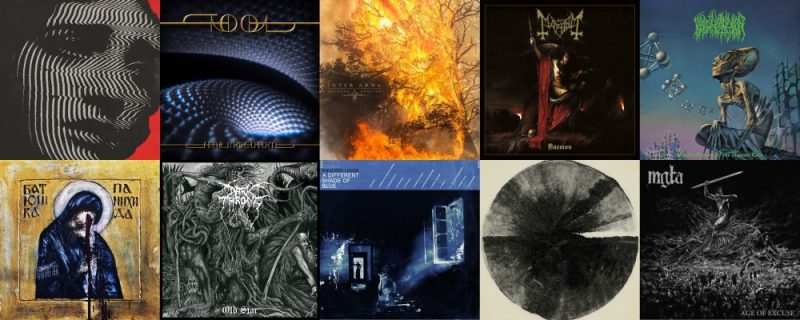 Welke plaat wordt de opvolger van:
- Behemoth – Demigod (2004)
- Opeth – Ghost Reveries (2005)
- Satyricon – Now, Diabolical (2006)
- Primordial – To the Nameless Dead (2007)
- Enslaved – Vertebrae (2008)
- Sólstafir – Köld (2009)
- Enslaved – Axioma Ethica Odini (2010)
- Primordial – Redemption at the Puritan's Hand (2011)
- Marduk – Serpent Sermon (2012)
- Carcass – Surgical Steel (2013)
- Yob – Clearing the Path to Ascend (2014)
- My Dying Bride – Feel the Misery (2015)
- Oranssi Pazuzu – Värähtelijä (2016)
- Amenra – Mass VI (2017)
- Behemoth – I Loved You At Your Darkest (2018)
Bekijk hier de jaarlijsten van alle voorgaande jaren:
2018
2017
2016
2015
2014
2013
2012
2011
2010
2009
2008
2007
2006
2005
2004
De gebruikelijke regels gelden weer:
- Graag niet (teveel) slowchatten tussen de lijstjes door, zodat ik een beetje overzicht kan houden.
- Albums moeten in 2019 uitgekomen zijn.
- Je kan maximaal één lijst insturen, dit zal nauwkeurig in de gaten worden gehouden.
- Graag je lijst uiterlijk op vrijdag 3 januari 2020 insturen! De uitslag zal daarna spoedig geplaatst worden.
- Denk aan de correcte spelling van bandnamen en albumtitels.
- Je kan maximaal 20 albums aandragen. Lijstjes met minder dan 10 albums worden niet verwerkt.
- Geen re-releases, boxsets, DVD's, verzamelaars, splits, live-albums, mini's, singles, demo's, of EP's. Hier doen we bij echte twijfelgevallen natuurlijk niet moeilijk over, maar zoals ieder jaar is ons doel een albumjaarlijst samen te stellen.
- Mocht je je in dit topic geplaatste lijst willen wijzigen, quote dan alsjeblieft je lijst en plaats je nieuwe lijst als reactie op je eigen quote. Dit zodat ik niet steeds hoef terug te zoeken.
LIEFST WEL ZO WEINIG MOGELIJK WIJZIGINGEN, DUS PROBEER JE DEFINITIEVE LIJST TE PLAATSEN!
- Mailen van je jaarlijst mag ook:
jaarlijst@zwaremetalen.com
(onderwerp 'ZM Jaarlijst')
Succes en bedankt voor de moeite alvast en voor het in acht nemen van bovenstaande punten!
[Dit bericht is gewijzigd door iPim op 27-12-2019 15:08]