Devy heeft een baby. Toe maar, allemaal : AWWWWWWW

HEVYDEVY RECORDS
PO Box 153, Maple Ridge, BC, V2X 7G1, Canada
Email:
hevydevy@shaw.ca
Web:
www.hevydevy.com
Fax: (604) 460-1263
Issue #75
The big news this time is an addition to the HevyDevy family. Devin and I would like to announce the birth of baby boy Reyner Liam Johnstan Townsend (to be called Reyne – pronounced "Rain" - in daily life) on October 4, 2006, weighing 8lbs 10oz. He's awesome. It's an old cliché but words really can't describe it.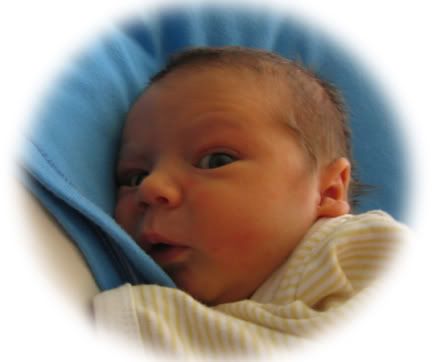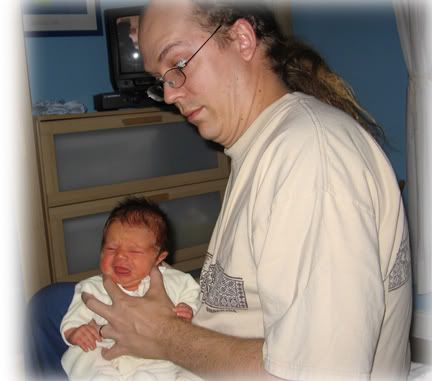 While Devin has taken time away from touring to spend with his new family, this does not mean that he has been idle. He finally finished his second ambient album called The Hummer [samples of Hummer can be heard over the menu section of the Synchestra DVD] that has been submitted for printing and should be ready to order about November 15. Devin says "Like DevLab, some people may not want to take a risk on it but I'm incredibly proud of it and have been slowly working on it for 2 years. It is an ambient record that is supposed to be relaxing and if you loop it, it is intended to be nice to snooze to." Album art is by Konrad who also did DevLab.
Also occupying his time in the past month has been work on his puppet show. The first puppet is coming together with Devin just sculpting the finishing touches. The main character is Ziltoid the Omniscient, an alien with ideas on destroying the Earth. It will consist of five minute episodes with Ziltoid interviewing artists and musicians, seeking from them some reason not to blow up the world. He is working with many other people on the project including Travis Smith (metal CD layout master), Marcus Rogers (Vampira video), among others. Ziltoid will be beaming episodes to the web when he sees fit, and he may be releasing Ziltoid merchandise later in the year. There is no set timetable for the show as it will be done when time is available. "Ziltoid the Omniscient is something I have wanted to do since I was 15 years old [Devin says] and people will wonder why so much energy was put into making him but I saw the movie The Dark Crystal and thought it was so creative that I wanted to do something like that. This is nothing on that scale but some of the puppet-making techniques have been incorporated. It will be in your best interests to like Ziltoid or he will have to lower himself to destroy you." Ziltoid's theme song is already written and will be made into a video as well.
Devin filmed a 15-minute instructional video for the website describing his guitar rig and gear specifics on how he gets his sound. He demonstrates examples of various songs through all of the gear that he is currently uses. That video will be ready for viewing and uploaded later in the year.
While Strapping Young Lad and the DTB are on hiatus for a while, on this break, Devin has already written five new songs that don't fit in with either. He hopes to record a full album in project style (like Terria or Infinity) in Spring of 2007.
February 20 Devin starts producing the new Darkest Hour album in Vancouver. It is the second time working with the band. The last album did really well for them so Devin is looking forward to topping that one. He will also be mixing this record.
I apologise for any inconvenience but until the new year only the mail order aspect of HDR will be operational so I can focus my attention on Reyne. During this time only the filling of orders and direct correspondence regarding orders will be answered. Thank you for your understanding.

[Dit bericht is gewijzigd door FRNK op 17-11-2006 16:46]