SABBAT / HERETIC - Split Picture EP
Heretic deelt de eerste split van deze Sabbat picture-EP trilogie, dat hun optreden in de Baroeg, Rotterdam uit '97 bevat. Twee onuitgebrachte Heretic nummers en twee ruige Sabbat nummers. Ontwerp door brianvdp, komt op dik vinyl en met een extra inleg en flyer. Gelimiteerd tot 666 exemplaren, te bestellen voor €12 inc porto.
Luister:https://soundcloud.com/new_era_productions/heretic-the-law-of-vitriol-sabbat-split-picture-ep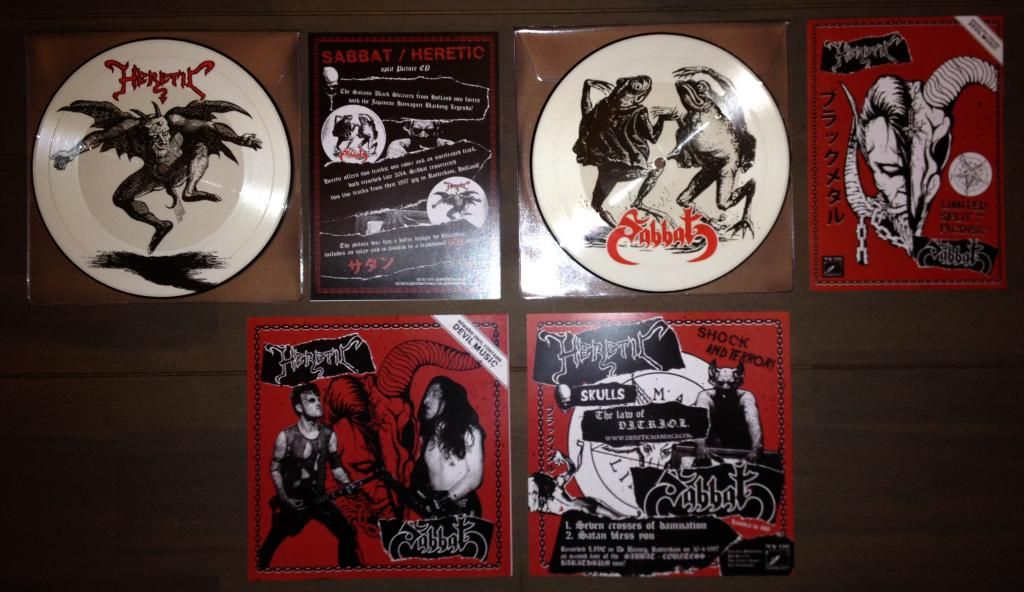 DER BLUTHARSCH 12 x cassette boxset
Voor de eerste en enige keer op tape: de Der Blutharsch diskografie kompleet in een box set. Volg de 15-jarige muzikale reis van dit fascinerende Weense kombo over 12 albums. Van de dreigende, duistere martial-industrial-folk van de eerste jaren tot de psychedelische, gedrogeerde krautrock-drone van de laatste jaren. Professioneel gedrukte cassettes in een stevige zwarte box met zilverfolie opdruk. Gelimiteerd tot 188 exemplaren.
NL: € 83 BE: € 86 inc porto.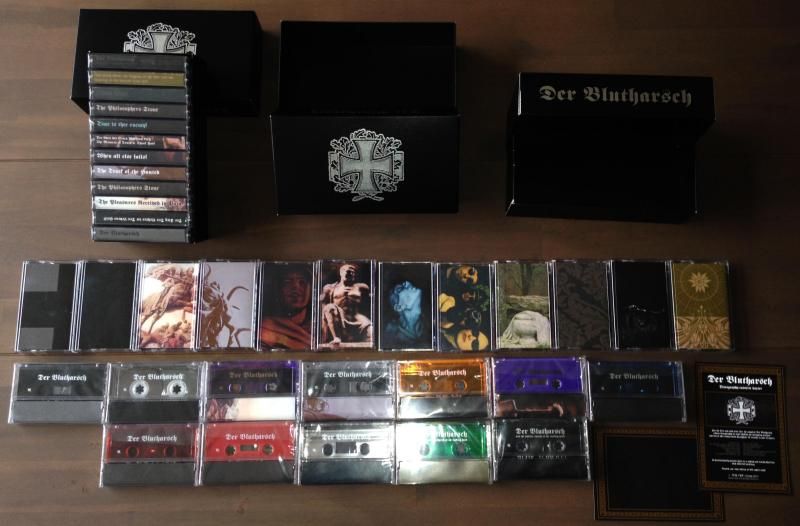 COUNTESS - The Gospel of the Horned One CD / LP
Eindelijk op vinyl: het smerige debuut uit 1993 van een van Neerlandsch oudste Black Metal bands. Verbeterde, doch identieke vormgeving en vrij van remaster ellende. De LP komt met twee inlegvellen en CD met twee bonusnummers.
Luister en huiver:
https://soundcloud.com/new_era_productions/countess-kneel-before-the-masters-throne-1993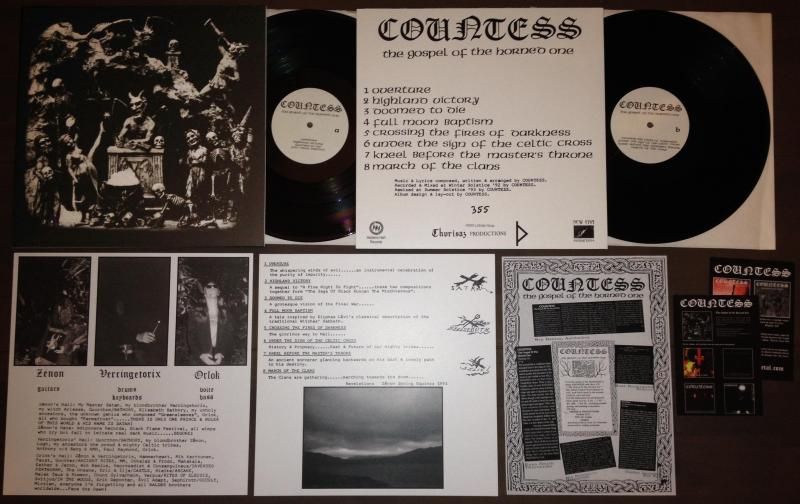 ACHERONTAS - Black Blood Ceremony CD / LP
Grimmige, okkulte Black Metal uit Griekenland. Top-kwaliteit live-opname van het optreden in de Willemeen, maart 2o14. Eenmalige, gelimiteerde uitgave op CD en LP.
Luister:https://soundcloud.com/new_era_productions/acherontas-blood-current-illumination-black-blood-ceremony-album-live-version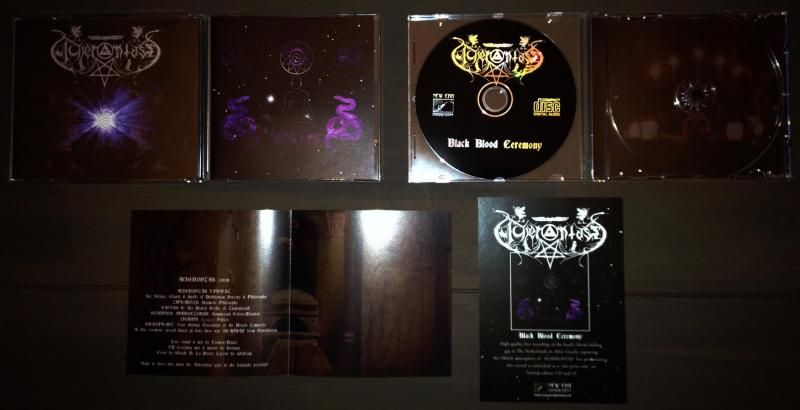 MORDAEHOTH - Limburgian Pagan Madness CD / LP / TAPE
De nieuwe van deze Limburgse heidense Black Metal knuppelaar brengt een koude en uiterst rauwe terugkeer naar de wortels van de jaren-90 Poolse (en met vlagen Noorse) Pagan Black Metal scene. De CD en LP komen ieder met aparte bonusnummer en de cassette-fetisjisten worden beloond met alle en extra bonusnummers. De tape is te verkrijgen via Heidens Hart.
CD gelimiteerd tot 500, LP tot 250 en tape tot 100.
Luister:https://soundcloud.com/new_era_productions/mordaehoth-the-nightside-of-the-soul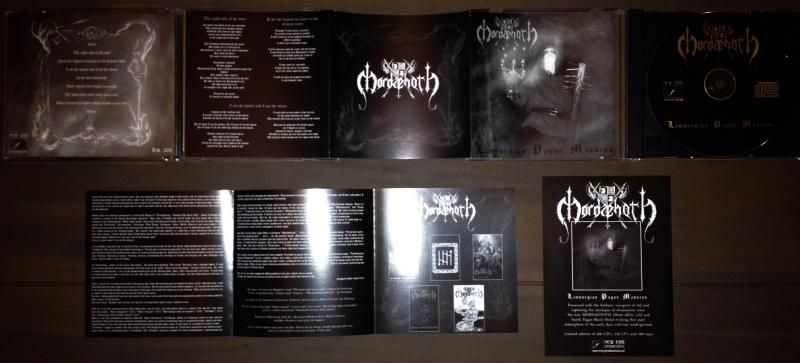 De volgende uitgaven dragen geen New Era Productions catalogusnummers maar worden wel exclusief gedistribueerd:
THE SINISTER FLAME IV - Hammer of Black Illumination Magazine
Fins Black Metal magazine van Northwind, die sedert de vroeg jaren negentig de underground scene bevuilt met zijn fanatische pennenroerselen. THE SINISTER FLAME biedt slechts ruimte aan Satanische artiesten, met in deze uitgave MMP TEMPLE, HAMMEMIT, VASSAFOR, SOL EVIL, LAMIA VOX, PROSELYTISM RECORDS en IRKALLIAN ORACLE.
Vanuit een Order of Nine Angles achtergrond ook diverze artikelen en vele recensies. 56-pagina's, volledig in kleur gedrukt en vormgegeven door Miko van ISTEN magazine.
€7
COUNTESS - Sermons of the Infidel DIGIPAK-CD
Geen nieuw album, maar een selectie oude en nieuwe(re) nummers heropgenomen. Mooie digipak met een boekje.
Hoor:
https://soundcloud.com/new_era_productions/countess-bloed-in-de-sneeuw-2014
Email om te bestellen en om de volledige postorderlijst in Excel te ontvangen:
neweraproductions.nl@gmail.com