Wat dacht je van Bottom van Rik Mayall en Adrian Edmondson. Heerlijke brute humor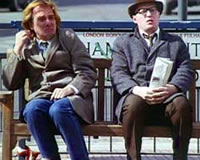 Quotes:
Richie: Eddie, are you packed?
Eddie: Certainly am. Never had any complaints.

Richie: Listen, don't panic, but I think we've got some trouble downstairs.
Eddie: Well, that's no reason to wake me up. Just change your underpants and see the doctor in the morning.

Eddie: Hey, maybe he's not dead! Maybe he's just stunned! Why don't you give him the kiss of life?
Richie: Yeah! No I will not, you sad pervy! We've got a dead body in the house and your first idea is to sexually assault it!
[Dit bericht is gewijzigd door bazzio op 25-07-2001 16:03]